Verse 2 for Memory Work- Colossians 3:13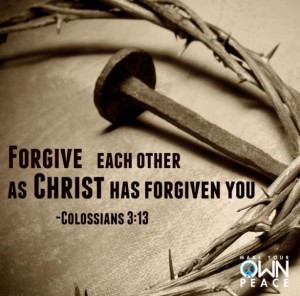 Second Verse for Memory Work-
Bear with each other and forgive one another if any of you all has a grievance against someone. Forgive as the Lord forgave all of you.
YOU are forgiven!  All the times you have broken relationship with God and others- sexual immorality, impurity, lust, evil desires and greed, which is idolatry, anger, rage, malice, slander, and filthy language (Col. 3:5, 8)- ALL of those are taken away by the Love of God through the work of King Jesus on the cross.  Meditate upon the glorious gift that is God's forgiveness.
Then take a moment to reflect upon what we are now called to do.  Since the Lord- the perfect one against whom even the smallest sin is COSMIC TREASON- forgave you of every offense, by the power of the Holy Spirit you are to forgive those who sin against you.  In this way we are showing the world who God is.  When we forgive, we show everyone a small taste of God's forgiveness.
Is there someone that has done something against you?  How does God want you to forgive them?
---